A charming port town with an extensive harbour in the north of Mallorca, Puerto Pollensa property market is one of the most notable destinations and top residential areas in Pollensa region and on the island.
Puerto Pollensa Property Insights
Property opportunities here vary from apartments and penthouses to hillside villas. They offer an exceptional experience of living by the pure sea with the views over the beautiful horseshoe bay.
Compared to Pollensa municipality in general, Puerto Pollensa property prices are around the same level. The average price for an apartment here is per square meter and the price for a house hovers around per square meter. However, a sought-after position with a view of the Mediterranean Sea raises the average value of properties here. If you are looking to invest, you can find opportunities for  per square meter.
The most notable agencies operating on Puerto Pollensa property market are JS Properties with more than 100 listings, ImmoAbroad and Pollentia Properties, both with around 70 offers in the area.

Why Puerto Pollensa Property?
Puerto Pollensa richly deserves its fame, as it is truly picturesque. Its harbour is lying in a bay of the utmost beauty. Here, the dreamlike landscape unites the sea and the mountains, which has been a great inspiration of painters and writers.
The harbour area, formerly a tiny fishing village, has since been converted into a port equipped with all facilities to welcome boats and luxury yachts. In addition, it is an excellent summer holiday destination and residential neighbourhood.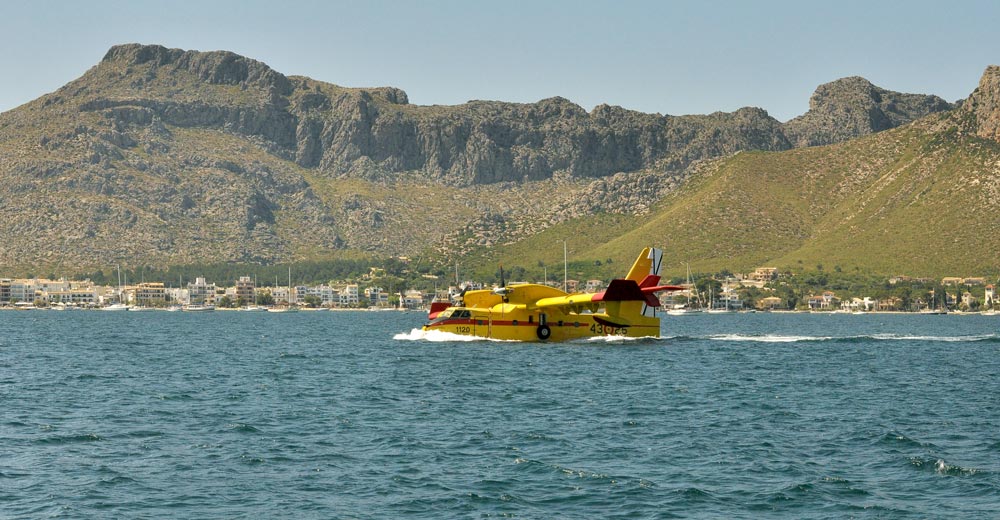 Puerto Pollensa is the ideal place to relax and enjoy some leisure time. It has everything you may dream of – fabulous white sand beaches, boat harbour, golf courses and magnificent promenade along the seaside. It is a very sought-after area thanks to the high-quality services it offers to both residents and holidaymakers. The city of Palma and the airport are about 45 minutes away.
The south facing bay of Pollensa is considered as the best sailing area. Also, it is very popular for practising diving, jet skiing and other water sports. Especially, it has an absolute cult status with surfers and especially kitesurfers. Numerous watersport schools offer their services here.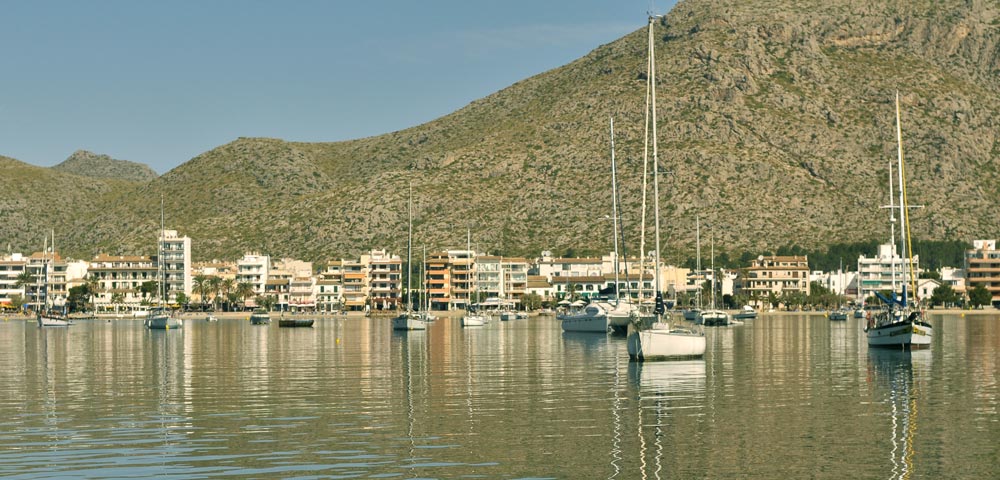 The Pollensa Yacht Club (Real Club Nautico Port Pollensa) is set along a charming coastline, right by the residential area. This pleasant marina with good facilities hosts sailing yachts and motorboats and is still home base to today's fishermen.
Playa de Port de Pollenca is a nearly 1,5 km long Blue flag sandy beach. It has been artificially created and is protected by a breakwater.
For golf players, the golf courses of Golf Pollensa and Golf Alcanada are reachable within 6 and 15 kilometres respectively.
The Boquer Valley is a great hiking route from Puerto Pollensa. Here you can take a relatively easy stroll across the valley to the secluded cove of Cala Boquer. This is a nice way to spend a few relaxing hours, enjoying the picturesque views, crystal clear water and the tranquil atmosphere.
The renowned beach promenade of Paseo Voramar (or "Pine Walk" in English) is beautifully surrounded with the very old pine trees. This pretty promenade is lined with restaurants and small-scale accommodation overlooking the sandy beaches and blue sea. Here you can enjoy long walks, have a wonderful dinner or just relax on the beach.
Puerto Pollensa boasts a wide range of fine restaurants, cafes and nightlife enjoyment areas.
Ones of the best restaurants in the area include "La Celtika", featuring the French cuisine mixed with multi-cultural influences and "Al Fresco deli", serving one of the most delicious paella. "Ca´n Cuarassa", situated on the beach, is where you can enjoy Mediterranean cuisine based on local market produce.
Finally, the residential area of Puerto Pollensa is highly demanded among prime second-home buyers. Importantly, any property purchase in the area is a great investment opportunity, representing excellent value for money. The properties here tend to offer many of the advantages, such as fabulous views, proximity to the beach and to the countryside. And still, this lovely harbour retains its peaceful and leisurely atmosphere of a small fishing port that it once was.